Where to smoke cannabis in Barcelona
Where can you smoke cannabis in Barcelona? Technically you couldn't because it's not legal to smoke marijuana in public places. Cannabis is legal only if smoked in cannabis clubs specific for this purpose. However, if you are careful you can smoke outside enjoying the view and the pleasure of this city. Read this article so you will discover how you can do it in peace.
Spanish laws in terms of Privacy allow people to plant and consume cannabis legally but only in private clubs. The law however does not allow possession or consumption in public places, which means that walking in the streets and smoking is not exactly advised. You can do it of course but you need to be discreet and respectful of the law. If you get caught smoking in a public place you risk a fine and the confiscation of cannabis. If you want to do it without risking anything read this post until the end.
Small guide:
Do not smoke cannabis close to kids or families
Do not smoke cannabis close to elderly people
Do not show off, keep your joint low and avoid coughing
Always look around for police
Throw away the garbage so as not to leave traces
Do not sell or give weed in Barcelona
Do not smoke too close to people you don't know
If you need a reference to join a cannabis club in Barcelona, follow this link, choose and become member.
The locations in the city where you could smoke weed
Below you can find some points of attractio in Barcelona, more or less popular, where you could smoke cannabis. Take note.
The Castle and the Montjuic gardens – Montjuic Region, Barcelona
The Castle and the Montjuic gardens in Catalunia are an excellent place to smoke weed in Barcelona. Montjuic is a popular castle located in the east of the city, and on top of this small mountain you can find the castle with its beautiful gardens. In this peaceful place you can smoke weed with your friends with discretion and carefulness. It is a place where you can smoke safely.
Parc Ciutadella – El Born, Barcelona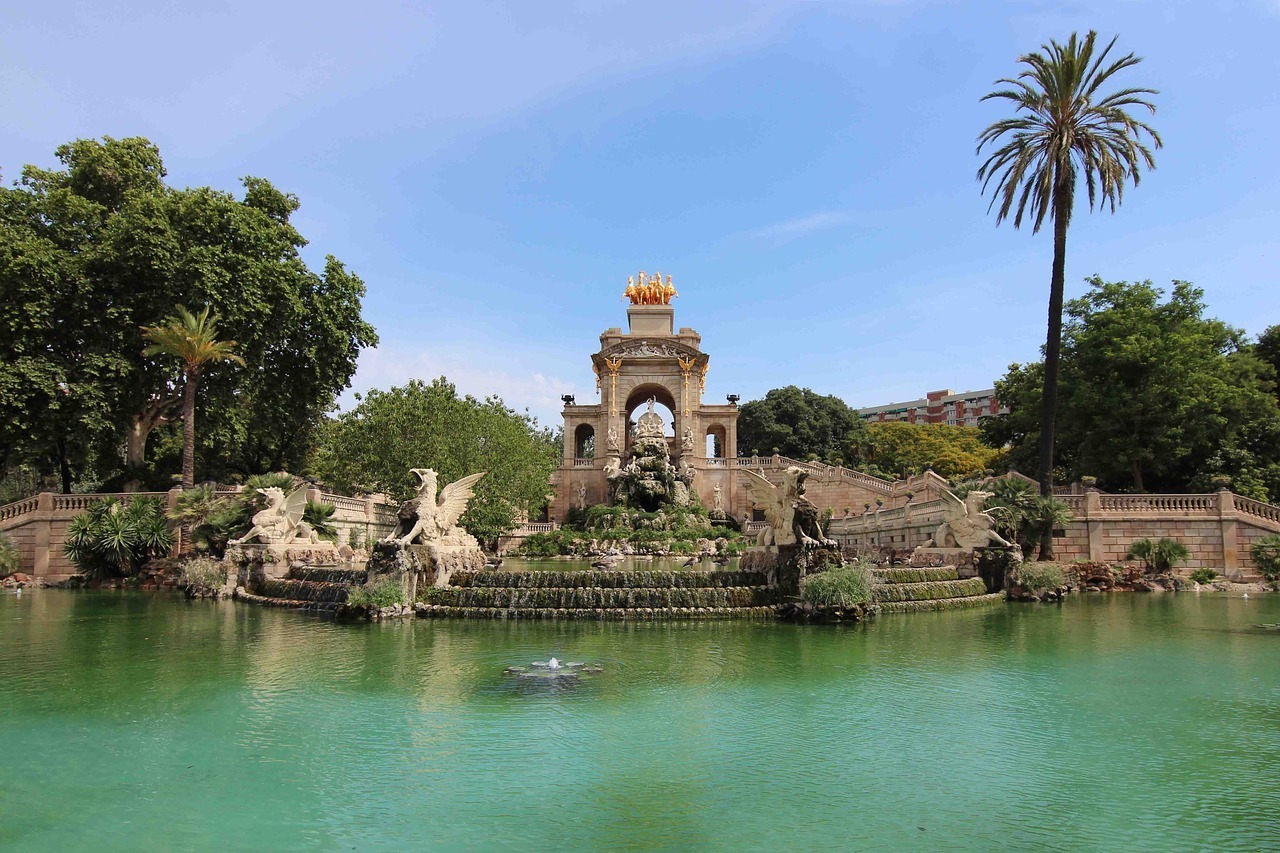 Another place where you can smoke cannabis in Barcelona, the Parc Ciutadella is one of the best in Catalunia, and it extends until the zoo and the Parliament. In fact, the Parliament is inside the park, so it's quite interesting smoking here. Anyway, being large, there are tens of places where you can smoke, avoiding of course the most crowded parts. Avoid smoking in the main street because those who did have been caught by the police who often use officers in disguise.
Parc Forum Poble Nou, Barcellona
Parc Forum is another place where you can smoke weed in Barcelona. Olympic games were played here in 1992 and it is also one of the most beautiful places in the city. It's another nice place where to smoke weed in Barcelona, with large spaces and it's perfect to relax and smoke. An area of Parc Forum faces on the port where you can see the walkway and enjoy the view.
Barceloneta Varrio sidewalk, Barceloneta, Barcelona
Walk on the Barcelona coast, which is the heart of the city where everyone gathers. This is the perfect spot to smoke while enjoying the sun but you need to be very careful and discreet. Choose a place on the beach and enjoy the sun and the weed but avoid excessive smoking and showing off. You can enjoy the sea and smoke, you can have fun and meet a lot of interesting people, artists, sellers and taste some local food.
MACBA El Raval, Barcelona (Superior end)
The MACBA is a world famous modern museum and it is also a meeting point for skaters and stoners. The people coming here are usually young and many go to do skateboarding and have fun. It is always crowded and this makes it an ideal place to smoke marijuana given that no one will pay attention to you, therefore you can smoke in peace.
La Rambla del Raval El Raval, Barcelona
La Rambla del Raval is a nice place to smoke marijuana in Barcelona, very similar to Las Ramblas but way more chilled, with a minor influx of tourists. Here you can walk and smoke, seat on the benches in total relax while you smoke weed. It's also a nice place where you can smoke weed in Barcelona. Of rouce with discretion, even if the risk is inferior here.
Parc Guell Carmel Hill, Barcellona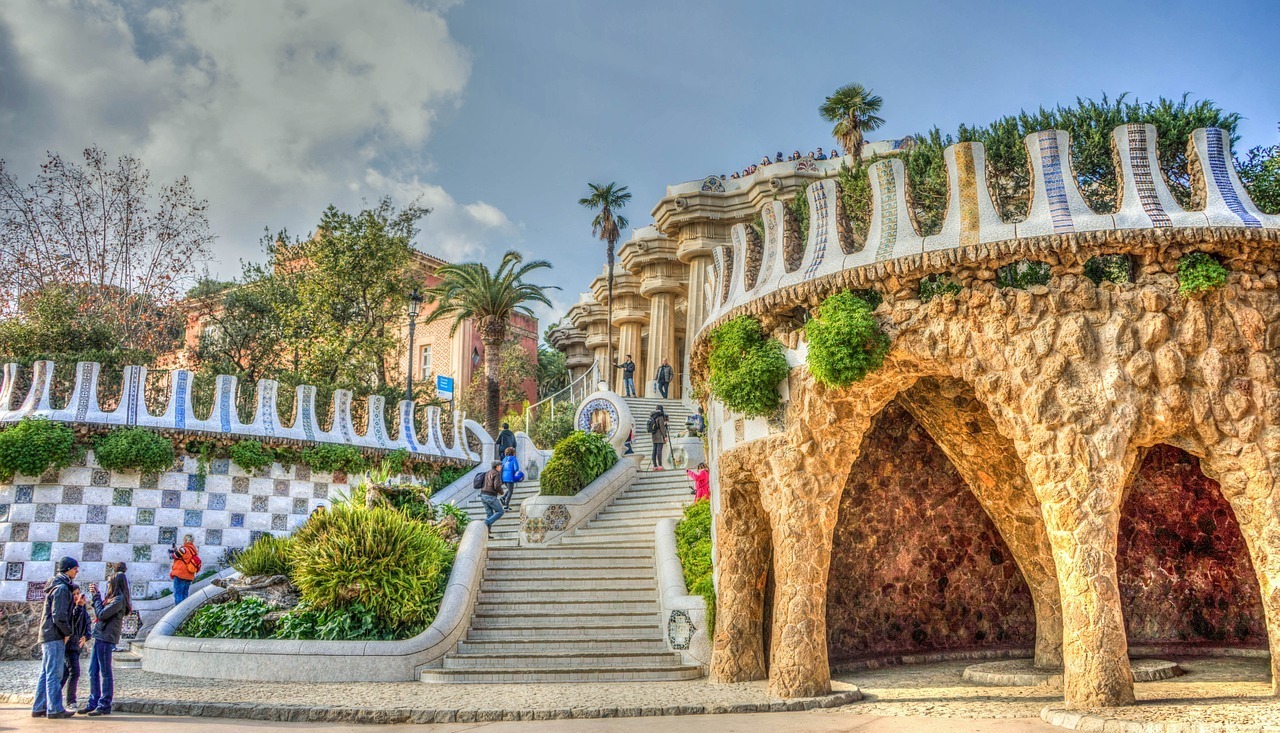 Parc Guell is another good place where you can smoke weed in Barcelona and it's probably the most beautiful park in the city. It's the famous project of the great Gaudi and it is considered one of the most beautiful parks in the world. Lots of colours and a breathtaking view give the park a magical atmosphere that will make your smoking session special but pay attention not to bother anyone with your smoke because it is always very crowded, so enjoy the park instead!
The places that we have just mentioned are surely among the most beautiful and interesting where you can smoke cannabis in Barcelona. However, we suggest you to stay away from these below:
Las Ramblas, avoid the main streets in the centre from Placa Catalunya to the monument of Columbus. There is a lot of people at any time and there is always a lot of police, also in disguise therefore avoid smoking here.
Placa Catalunya, is on top of Las Ramblas, which is a highly checked area and full of people. You can smoke here only at early morning but you need to be careful because there are eyes and surveillance everywhere.
The Colombus monument is at the end of Las Ramblas, it is also always full of people around it. Police is always present here and it's better not to risk it and to enjoy the place as a tourist without smoking.
Maybe these could interest you: