Spannabis Barcelona 2020, the cannabis fair
Like every year, the Spannabis Barcelona 2020 is back! From the 13th until the 15th of March 2020 the Cornellà fair will host the most important European Cannabis event.
Spannabis Barcelona 2020 is definitely and important event for the people working in the sector, but even the curious people could find its stands interesting.
Below you can find all the useful information in case you decided to go to Barcelona for this occasion!
Spannabis, a little bit of history
Spannabis Barcelona 2020 is the seventeenth edition of a fair that started in 2003 for the first time. It's the result of an idea of a Spanish group that has imported the model, already existing in Europe, of a fair dedicated to Marijuana and its products. Among the European Cannabis fairs, this in Barcelona has become one of the main ones, exceeding the others in terms of size and relevance.
Apart from the first edition that happened in "Palau Saint Jordi", Spannabis Barcelona 2020 will be held at the Cornellà fair, just like the previous ones.
Year by year the interest towards this event has grown, contributing to the enlargement of the exhibition area, the number of exhibitors and the visitors. The past edition has broken any previous record also thanks to the relevance given to Marijuana and its industry globally. Last year, over 17,000 square meters of exhibition and 500 international exhibitors attracted over 30,000 visitors! This is impressive if you think that this is happening in a country where cannabis consumption has not been completely legalised yet!
This year's edition promises to do even better than the previous ones, both for number of visitors and exhibitors. The organization forecasted an increase in the exhibition area and the event will host a lot of initiatives as well as many stands.
Spannabis, program and attractions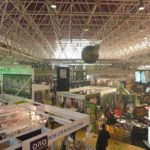 During the Spannabis Barcelona 2020 there will be the eighth edition of the World Cannabis Conferences. This is a series of meetings and conferences having cannabis as a main theme in all its versions. There will be doctors, scientists, politicians and businessmen owning cannabis-related businesses. The topics of the conferences will vary and will be interesting as it will deal with multiple aspects of the problems related to the cultivation, consumption and sale of marijuana. Consumption will be talked about in depth and topics will include therapeutic marijuana, its leisure consumption, international law and many other interesting topics.
Conferences at the Spannabis Barcelona 2020 hold a relevant role in bringing together the various actors rotating around this market, as this is still a fragmented industry and as laws differ based on the country. The favourable environment to the dialogue allows people to share their experiences and ideas, and sharing is extremely important in a pioneer industry such as the one of cannabis. If you have time and you are interested in the topic, I suggest you to have a look at the program, and you will definitely find some conferences to follow!
Spannabis Barcelona 2020 is not only the World Cannabis Conferences! At the exhibition you will find a lot of artists somehow connected to cannabis. The program includes three days of music to enjoy.
Friday 13-03-2020. Performers include Hidro, Shakti Alliance, Golfo de Guinea y Barbass Sound and Tribade.
Saturday 14-03-2020. There will be Sharin Skank, Purple Rockets, Paula Blu, Women Soldier w/ Awa Fall, Matah, Belén Natalí & High Paw feat Chalar58 and Kandee.
Sunday 15-03-2020. We'll see on stage Full Spectrum Selectors, Afrikan Warriors, 420 Backyard Battle, Suka, Karlixx and Dj Rambla.
During Spannabis Barcelona 2020, there will be the Spannabis 2020 award ceremony. On Friday 13 the Spannabis Champions Club award will be given, which is an award given to the best growers. This is an important European award that is given in five different categories.
Award to the variety containing the highest quantity of cannabinoids.
Award to the variety containing the highest quantity of cannabinoids.
Quantity of CDB. Award to the variety containing the highest quantity of cannabidiol.
Extraction through solvent. Award to the variety containing the highest quantity of cannabinoids.
Extraction without solvent. Award to the variety containing the highest quantity of cannabinoids.
On Sunday the 15th, also other awards will be given: best stand, best seeds, and every other aspect of cannabis will be evaluated and awarded. The award ceremony is another interesting aspect of this event, aimed at normalising the production and consumption of this substance.
Cannabis, where to find it
You will be wondering if you can try or buy cannabis at the Spannabis Barcelona 2020. I have to be honest and disappoint you as selling and consuming cannabis at the fair is strictly forbidden! Moreover, the exhibitors often use other vegetables instead of marijuana. You need to know that Spanish law allows cannabis consumption only privately. So, if you cultivate and smoke it at your place no one can tell you anything, however, if you possess it in public and get caught you will be fined. This means that in a public space such as this fair, you will never find cannabis.
Then why organising a fair dedicated to cannabis if there is no cannabis? This is an industrial fair where growers as well as their suppliers (creating farming and transformation systems) participate. You will find greenhouses, irrigation systems, lighting or heating systems but you won't find cannabis to buy and smoke!
But don't despair: you can take advantage of a visit at this fair. For example, you can start contacting social clubs where you could go later on and try cannabis in peace.
To conclude, Spannabis Barcelona 2020 is a big occasion for the people working in the sector. Its important conference and award program, as well as the number of exhibitors, makes it a must for those who work in this sector. If you are interested in the topic, you should not miss this event. You can buy the ticket online and choose for the daily ticket priced 19€ or the three-day pass priced 40€.
What are you waiting for? Now that you have all the necessary information, are you ready to go to Barcelona?